Are you looking for a romantic restaurant in Saigon to enjoy a dating meal with your loved one? Too much information makes you wonder which is the fine dining restaurant you are looking for? Instead of constantly struggling to choose, go right to the list of 6 restaurants that are very famous in the culinary community recently. The rich taste, varied dishes and the ideal space are the outstanding features that the restaurant list below owns. Not only that, this is also an ideal dating place for couples who love a cozy, luxurious and romantic space.
Love at first sight with Ussina Sky 77- Fine dining restaurant for romantic dating
One of the top attractions of Ussina restaurant is the high altitude view of the city. Located on the 77th floor of Landmark 81 building, this famous Japanese restaurant will offer couples an unforgettable culinary experience at a height in the middle of the cloud. With the unique U-shaped structure design covered with 4-sided glass, Ussina opens up an airy culinary space in harmony with the surrounding clouds.
Some surveys on the best time to date at Ussina restaurant show that: There are many couples who choose this fine dining restaurant for dinner at sunset. This is the time when the sunset gradually falls, creating a magnificent golden scene. Sitting from Ussina restaurant, you will be able to see almost the whole beautiful scenery at sunset of the city. What could be better than being with your loved while experiencing exquisite cuisine in a romantic restaurant in, while indulging in the dreamlike beauty of the sunset in the sky!
That is just the culinary space inside the restaurant. You will be even more surprised when enjoying the super product Snow Aging Wagyu here. Ussina is the only fine dining restaurant in Vietnam that owns this unique dish.
Ussina Sky 77 is the only fine dining restaurant in Vietnam that owns Snow Aging Wagyu beef
What makes the Snow Aging Wagyu so attractive?. Of course, it is not only in the fresh eye-catching appearance of the meat, but also in the taste and nutritional value contained within. Maybe you do not know, after going through the process of freezing the snow, the cholesterol in the meat has reached the maximum (70%). In return, the natural sweetness of the meat increases and the smoothness of the meat is significantly increased (3 times higher than normal beef).
Couples often refer to the sweetness of Snow Aging Wagyu as a sweet and profound love taste. They argue that it is not just a dish, but also a catalyst that helps to enhance their meal experience.
Especially, it will be a big omission if enjoying Snow Aging Wagyu in this romantic fine dining restaurant without wine. Sip some wine while using the Wagyu to make your experience sharper and complete. The warm wine that blends with the sweet and fragrant Wagyu beef will make the taste buds endlessly sublimated.
See more information about Ussina restaurant here
Fall in love with the rich curry flavor at CoCo Ichibanya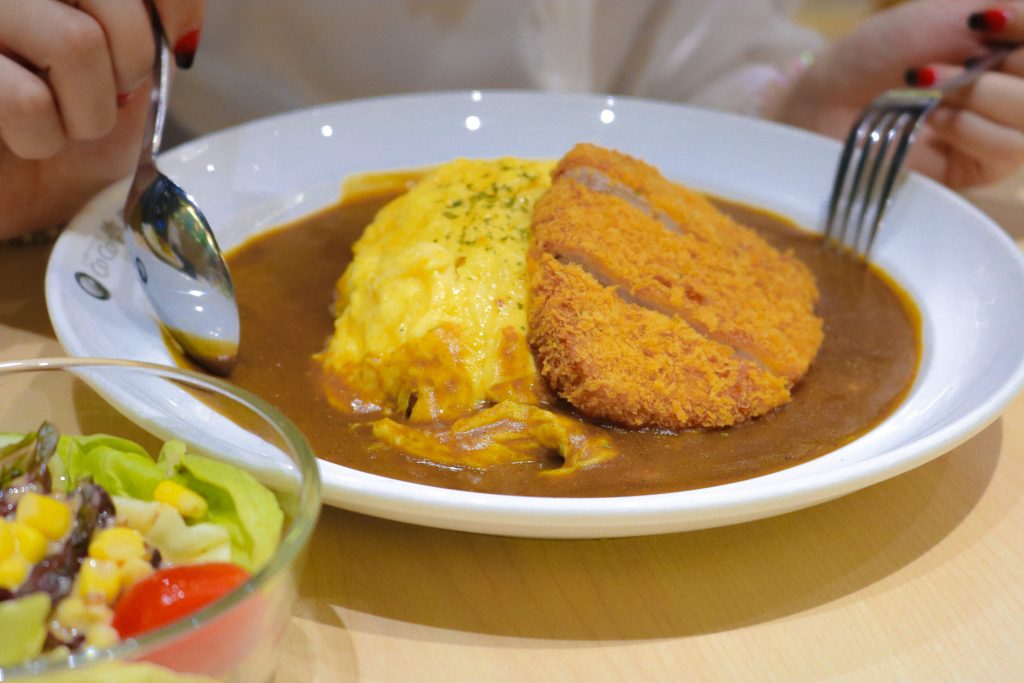 This is a famous curry rice restaurant established in 1978. CoCo Ichibanya is the representative of modern Japanese cuisine "Yoshoku". "Yoshoku" is a distinct style of cuisine that includes Western-style dishes that have been reinvented to suit the taste of the Japanese. Curry, though originating from India, was introduced into Japan through the British, so it is no exception. It has been altered and adapted a lot to become traditional Japanese food.
Talking about fine dining restaurant, you must definitely talk about CoCo Ichibanya. Coming to this restaurant, you will be immersed in the tender softness of the famous curry sauce. People still say "A person is beautiful because of the silk". In CoCo, the rice is delicious because of the curry sauce. The two main ingredients of curry rice at CoCo Ichibanya are rice and curry sauce. Fluffy white rice grains are covered with a sweet, creamy curry sauce. The soft and smooth rice is full of vitality like a boy who is filled with immense love. Rich curry sauce with a gentle scent like a charming, arrogant girl. These two ingredients work together to create a Japanese curry representing love between couples.
Due to the new nature of Japanese curry, there are currently very few restaurants serving this dish. But okay, this fine dining restaurant chain is officially present in Vietnam and ready to "crazy" food enthusiasts.
Restaurant information:
Happy pastry shop for sweet couples – What about Conservo?
If your lover is a sweet girl then try her at a pastry restaurant with her. Going to eat with your lover at the sweet little cake restaurants is also a good idea. Sweets will help our mood become more relaxed and cheerful. A delicious cake with some warm tea will be a great catalyst for your date to be more memorable.
Currently, there are many fine dining restaurants that usually target diners who are couples. So it will not be difficult for you to find a restaurant with a cute and romantic space. Tell you a "divine" place that is being hunted by food lovers as well as couples today.
Happy Bakery Conservo – Japanese Breads & Café. Dubbed as a bakery bearing the spirit of Japanese cuisine. Conservo has dozens of delicious cakes from cakes to savory cakes, and has a very healthy drink menu. Your sweet girl will definitely have a fever in front of the extremely attractive pastry menu here.
Some super-attractive pastries are available at Conservo such as: shokupan, mousse, donut, nut bread, buttermilk bread, cream bread,…. Among them are Fruit sandwich, a magical blend of sweet fatty cream and seasonal fruits, served with a layer of fragrant shokupan wrapped on the outside. This delicious and delicious cake promises to bring couples a cool afternoon tea.
Restaurant information:
And Chiyoda Sushi will take your breath away with endless fresh seafood flavor
The next name in the list of fine dining restaurant suitable for dining with your lover is Chiyoda Sushi. Sushi is a fairly popular dish in the Saigon area in general and the central area of District 1 in particular. With a strange taste and eye-catching appearance. Sushi will definitely make your date even more interesting.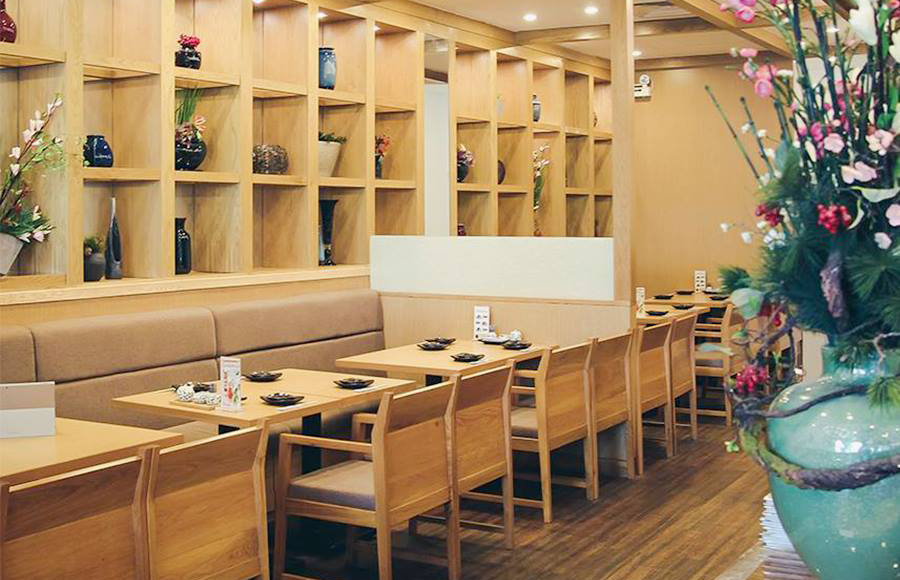 When you come to enjoy food at Chiyoda Sushi restaurant, you will enjoy fresh fish imported directly from Toyosu fish market – the largest seafood wholesale market in the world located in Tokyo. The fresh taste of the sea is encapsulated into each sushi slice just like the taste of first love. It is fresh, clear and unforgettable.
With a chain of more than 200 branches spread across Japan. Currently, Chiyoda Sushi has its first branch in Vietnam, located at 178 Pasteur, Ben Nghe Ward, District 1.
Restaurant information:
Yoshinoya Beef Rice Restaurant – An ideal dating spot for rainy days
The 5th fine dining restaurant called on this list is the name Yoshinoya. Over 200 years of establishment and development, Yoshinoya beef rice together with its esoteric broth recipe has given Vietnam an ancient Japanese breath. Stemming from a dish for the working people, Yoshinoya beef rice is a large bowl of rice, filled with hot sweet sticky rice seeds inside. At the top are sweet and soft beef slices covering the rice surface. Be careful, because this rice dish will steal your heart!.
In addition, on the 5th of every month, the restaurant will have a program "Yoshinoya day – beef rice from 49,000 VND only. Enjoying authentic beef rice with an esoteric recipe and at a deep discount. What are you waiting for? Take your girlfriend right away to the restaurant and enjoy.
Restaurant information:
And finally, Marukame Udon will send you a bit of passionate love from distant Japan
On rainy days or cold weather, taking your lover to eat udon noodles is extremely accurate. A portion of udon noodles will keep you both warm and full for a long time. They are also very tasty and look good. Udon noodles are both chewy and smooth, served with rich broth and tender beef. Adding a peach-shaped egg, it must be said that it is delicious!
It would be a mistake to ignore that Marukame Udon's tempura. There are 8 types of tempura that are both delicious and eyecatching to choose from: Shrimp tempura, fried Japanese fish cake, vegetable tempura, Japanese crab stick tempura, chicken egg tempura,…
Restaurant information: