The Landmark 81 is one of 18 classy towers belonging to the Vinhomes Central Park urban complex in Ho Chi Minh City, invested by Vingroup. Possessing an outstanding height corresponding to the number "81" in the name, Landmark 81 is the tallest building in Vietnam and also one of the 20 tallest buildings in the world. Inside this massive building is a collection of many luxury restaurant from Asian to European style.
If you love the culinary experience in the beautifully designed space and focus on the aesthetic elements. Ussina restaurant at the 77th floor Landmark 81 will be the perfect choice.
Possessing luxurious space and meticulous interior design to every detail, Ussina will surely give you a great experience every time you visit.
Where is the Landmark 81 located and how to move to the 77th floor?
The Landmark 81 is located in the heart of Vinhomes Central Park urban area. Address: 208 Nguyen Huu Canh, Ward 22, Binh Thanh District, Ho Chi Minh City.
Because Landmark 81 is one of the most famous places in Saigon, anyone can move to this place very easily. Just type the keyword "Landmark 81" on a smartphone, the Google Map software will immediately indicate the exact location for you. The interesting thing here is that you can reach the building by roads, railway, and waterway:
Roads: Moving on the routes: Nguyen Huu Canh, Dien Bien Phu, Ung Van Khiem, Hanoi Highway, … can reach Landmark 81
Railway: Metro line Ben Thanh – Suoi Tien.
Waterway: The "Marina Cruise" runs along the Saigon River.
Next, you need to carefully read the instructions below to be able to move to the 77th floor of the building – The location of the luxury restaurant – Ussina
Parking in the system of parking lots around the building
Move to the main entrance of Vinpearl Luxury and contact the receptionist for access to the elevator
The elevator will take you to the 48th floor of the building
Here, you will continue to be guided to move to another elevator to reach the 77th floor
You will not be charged a ticket fee when moving to Ussina restaurant
If you have any problem, please contact hotline 089 667 2861 – 0287 307 9793 for the fastest support.
Rest assured that there are staff on duty and on hand to guide you through your travels
And now let's go to the main part!
Luxury restaurant for families
Busy life sometimes makes us forget the moment of family reunification. That is why on holidays, Tet or special occasions of families, people often gather together next to a warm tray of rice. Of course, that meal doesn't have to take place at home. The whole family can enjoy the food together at a favorite place. This choice both helps your family save a lot of time and effort to prepare food, while helping to relieve stress better after many hours of hard work. A luxury restaurant for family meals, why not?
Grasping that mentality, Ussina restaurant's staff are always dedicated to giving your family the best dining space. Many long table areas are arranged in locations most comfortable for families. And yet, the small details on the dining table such as towels, knives, spoons, plates,… are all delicately arranged, bringing a sense of true luxury and upscale.
Covering the spacious and airy family dining area is a chandeliers that illuminates directly from the ceiling. You will be infatuated in front of a colorful sparkling party table. The light natural golden glow makes dishes look more eye-catching and contributes to your taste buds.
If you are concerned about the quality of service when your family has too many members. No problem, each family dining area has 3-4 staff available to serve you at any time. Not only a luxury restaurant, Ussina is also an ideal restaurant for family meals.
Luxury restaurant for couples
When it comes to restaurants for couples, definitely think of Ussina! Ussina owns high space with diverse beauty. From the clear morning light, to the romantic golden sunset. Or mysterious space full of romance and attraction of the night. All of these things can make your two feelings of love even more intense. At any time of the day, you can also share loving moments with your loved one in the middle of the sky.
Savor each slice of Wagyu beef with ecstatic sweetness, sipping a few drops of sparkling, passionate wine on the lips. In addition, the grilled lava stone makes the taste of the dish more delicious and attractive than ever.
Surely those who love each other will have very special days such as Valentine's Day, lover's birthday, anniversary of love, … How to make the most meaningful and memorable experience with your lover? What needs to be prepared to show sophistication and love for the other person? Don't worry, Ussina can help you with that. Ussina is also known as "a luxury restaurant for couples".
Please book a table at Ussina restaurant and note to staff your requirements. The staff can completely help you decorate the space, advise the food and help you create surprises for your loved half. In addition, the restaurant also has a band serving melodious music throughout the dining process of diners. Truly extremely romantic and classy, right?
Luxury restaurant for partner encounters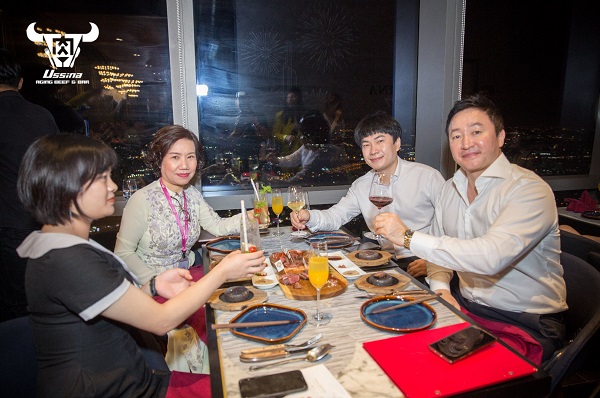 You just try to imagine that. While exchanging work with partners, while enjoying high-quality dishes that are carefully cared for to each stage. Covering the solemn meeting atmosphere of the two sides is a gentle, delicate and elegant space. Your partner will certainly be pleased with this thoughtful preparation.
In addition, if your meeting is in need of a more private but still luxurious space, the VIP room at Ussina is a great choice. The VIP room area is arranged separately from the open space of the restaurant. Room space is both secret and private, full of modern furniture accessories, ready to assist you during the meeting with your partners.
Nowadays, finding luxury restaurant for partner meetings is not too difficult. However, in order to find a restaurant that is both luxury and high-quality cuisine, not all restaurants can do it.
Expensive, delicious and nutritious. Those are the three words used to describe the Snow Aging Wagyu beef – super product in Ussina. As the exclusive partner of Uoshoku Company, Ussina restaurant is the only place serving Snow Aging Wagyu beef in Vietnam. Famous for its snow-making technique that has been passed down for more than 200 years, the Uoshoku Company Snow Aging Wagyu beef is naturally aged in snow-covered tunnels in Niigata, Japan. As a result, diners will enjoy premium quality Wagyu beef. Umami taste (meat sweetness) increased 3 times, softness increased 2.5 times and cholesterol decreased 70%.
Located in a prime location, overlooking from the 77th floor of Southeast Asia's tallest building. Plus the ultimate meal from Snow Aging Wagyu beef has 1-0-2 in Vietnam. Ussina contributes to endless inspiration for discussions, negotiations with million-dollar contracts, and brings up the level of business people.